Human Training Development

Steel Institute
GTC is developing a technical institute for the purpose of training the Company employees continuously and
contributing in spreading the knowledge Kingdom wide in the area of specialized steel industry. The institute
will cover the following areas:
• Training of steel melting technology including all melting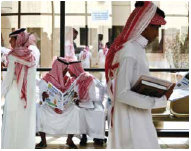 shop equipment and processes such as:
– Metallurgy and Material science practical engineering
– Electric Arc Furnace technology and engineering
– Vacuum oxygen degassing and steel mixing technology
– Steel alloys and standard global steel grades
• Training of Steel Mill
– Hot rolling processes of long steel products
– Cold drawing processes of long steel products
– Forging process of flanges, valves, and pipe fittings
The investment for GTC steel institute and R&DC starts from USD 15 Million and expands with GTC,operations and developments of new products and services.
Training and Education – Steel Making Plant and Rolling Mills
Ras Al-Khair (Saudi Arabia)- Gulf Tubing Company
We offer extensive possibilities for talented and innovative people to enjoy career paths filled with success and personal growth. Professionals in fields of engineering, business, information technology and chemistry are the core of our excellence.
Note: If you don't have any client email installed on you PC or laptop, please use thisform to upload your CV or email us at [email protected]and it's recommended that you add the job title that you are applying for in the mail subject.
Then we may just be waiting to hear from you! Please send us your CV and letter of motivation by e-mail to be included in our reference database for future opportunities